A kitchen remodel can increase the value of your home. It can also make your home more functional and comfortable.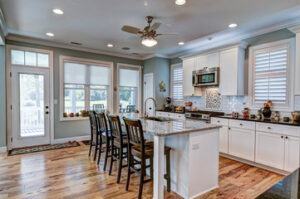 When it comes to a kitchen renovation, it's important to determine your goals. This will help you choose the right design and materials for your remodel. It will also help you stay within your budget. Click here to learn more.
The kitchen is the heart of most homes. It's where people gather to cook, eat and socialize. A well-designed kitchen can improve the quality of life in your home, and increase its resale value. A remodel can be a costly project, so it's important to plan your budget carefully.
The largest portion of any kitchen remodel budget is typically allocated to cabinetry. This is because the cabinets are one of the most visible components of the design, influencing the overall style and color palette. However, homeowners can save on cabinet costs by choosing less expensive materials or opting for a stock cabinet line instead of custom options. Another major expense is labor. This can easily consume 20 percent of the total budget. By keeping the design simple and avoiding unnecessary ornamentation, you can minimize labor costs.
Appliances are also a large component of kitchen remodel costs. By selecting energy-efficient models, you can make a big difference in your energy bills while saving money in the long run. Also consider working in unique storage options like pull-out pan racks, bins and trash containers to make the most of your space.
Depending on the scope of your kitchen remodel, it may be necessary to move plumbing or knock down walls. These projects are more expensive than simply replacing appliances or kitchen cabinets, and can quickly blow your remodeling budget. By planning ahead, you can avoid unexpected expenses and surprise setbacks.
With the right planning, a kitchen remodel can be enjoyable and rewarding. You can also ensure that your remodel is completed on time and within budget by hiring a reputable contractor. New Life Bath and Kitchen can help you make sure your kitchen remodel is successful.
Design
When planning your kitchen remodel, keep in mind the latest design and layout trends to create a contemporary space. Make sure to include enough storage and a workspace that is safe for food prep. For example, installing a GFCI outlet and moving electrical outlets away from water sources can prevent accidental shocks. Also, updating the kitchen with new appliances and lighting can improve energy efficiency and safety.
Choosing the right floor materials is another important kitchen remodel design element. The color, texture, durability, and cost of different materials can have a significant impact on the overall kitchen design. If you're unsure which materials to choose, visit local showrooms and home renovation stores for ideas.
Other kitchen remodel design elements to consider include the kitchen floorplan and lighting. A well-lit kitchen is crucial for cooking and keeping things organized. Consider adding natural light through windows and skylights and using a combination of task-, under-cabinet, and overhead lighting to create an inviting space.
When it comes to the layout, group similar items together to make everyday tasks more efficient. For example, store coffee mugs and grounds near the coffee maker so your groggy morning self doesn't have to hunt for them. Similarly, place dishware and flatware within reach of the dishwasher to simplify unloading. Also, placing an oven and refrigerator close to each other can save time by reducing the distance you have to walk between them.
Layout
When remodeling a kitchen, it's important to consider the layout. You may want to make changes to the flow of the room, including relocating appliances, changing the position of cabinets, and adding or removing walls. This can have a big impact on your kitchen's overall functionality and look.
The layout of your kitchen should be based on how you use it and the needs of your family. You should take into account things like how many people cook in your household, if you have small children or elderly family members, and what cooking and cleaning habits you have. The layout of your kitchen should also be designed to allow for an efficient work triangle. This involves placing the sink, stove, and refrigerator in a triangular pattern. This is a great way to increase efficiency in your kitchen by making it easier to move between tasks.
You can choose from a variety of different kitchen layouts to find the best one for your home. Some of the most popular include U-shaped, L-shaped, and galley. However, it's important to remember that the exact layout will depend on the size of your kitchen and floor plan.
A U-shaped kitchen layout is perfect for large kitchens and can accommodate a lot of counter space. It can also be used with a smaller kitchen to create an open concept floor plan.
A G-shaped kitchen layout is similar to a U-shaped layout but has a partial fourth wall, also known as a peninsula. It's ideal for larger kitchens and works well in an open concept floor plan. You can also add upper cabinets to the side of the kitchen without a peninsula for extra storage.
Materials
The materials you choose to install in your kitchen remodel can have a major impact on your budget. Visiting specialty design showrooms can help you get a feel for what's available and give you ideas about how different elements might work together in your kitchen. You can also talk to professionals who can answer your questions and help you find the right products to suit your needs and goals.
When planning your kitchen remodel, consider the type of material you want to use for the countertops and cabinets. There are a few popular choices that include stainless steel, granite or quartz composite, and cast iron. Each has its own benefits and drawbacks, so think about what's important to you before making a decision.
Increasing storage space is another common reason for kitchen remodeling. Grocery stores now offer family-size product lines that won't fit in many current cabinets, so it may be time to add more space. A remodeling professional can recommend clever storage solutions for small spaces that will increase efficiency and make your kitchen more usable.
Some homeowners also remodel their kitchens to improve safety. For example, adding a GFCI outlet and moving electrical outlets away from water sources can reduce the risk of electrical shock. These types of upgrades are easy to implement and will add value when you're ready to sell your home.
Contractor
A kitchen remodel is a major home improvement project that increases both style and functionality. However, it can also be a complex process that requires time and patience. It's important to hire a professional who can help you manage your renovation effectively. They can assist with design, budgeting, and acquiring permits. They can also ensure that the job is done safely and on schedule.
If you want to remodel your kitchen, the first step is to assess your needs and goals. Once you have a clear idea of what you want, the next step is to create a kitchen remodeling plan and design. This will help you decide what fixtures, appliances, and materials to use. It is recommended to visit kitchen showrooms and home renovation stores to get ideas and inspiration. You can also watch videos and read online articles about kitchen remodels.
Structural changes are a key part of any kitchen remodel. This can include removing walls, adding or removing partitions, and expanding or changing the floor plan. In addition, you may need to make structural modifications to accommodate new appliances and plumbing. This phase can be the most expensive and disruptive part of a kitchen remodel, so it is essential to find the right contractor.
When doing a kitchen remodel, it is important to consider how the final product will affect future buyers. Over-customizing a kitchen can limit its appeal to a specific market and reduce its resale value. Moreover, over-elaborating on a kitchen's appearance can increase the cost of the overall remodel. In addition, it's a good idea to invest in energy-efficient appliances to save money on utility bills. It's also a good idea to install GFCI outlets and to move electrical outlets away from water sources to prevent fire hazards.